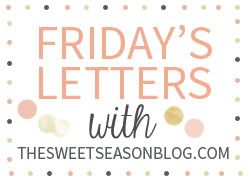 Dear Daughter, Congratulations! You are now a certified 'Iskolar ng Bayan'. I knew you can do it. Goodluck with whatever career you want to pursue. We are right behind you supporting you all the way.

Dear Hot Weather

, What the....!!! Lower down the heat please. It's dehydrating. Dear Salary, You were just in my hands hours ago, where did you go?

Dear Work

, You are no fun anymore. I am thinking of quitting but I can't. I don't know what to do. Dear Salbaheng Manong Driver, Karma will get you.

Dear God

, I thank You that my brother suffers only from minor injuries during his accident cause by a very stupid person. He lost his work though but I know he will find work soon, with your good grace. Thank you for guiding my daughter during her entrance examination at PUP. She passed. Thank you for guiding me and my husband with whatever decisions we are making recently. We kind of agree with each other most of the time. Less quarrel, more love. And I'm sorry for being too busy to attend mass. Will make up for it.

Dear Exercise

, I never thought I will miss you. I've been busy with my house work and by doing it I thought I was compensating my lack of dancing and running. But no. I will find time for you, I promise.