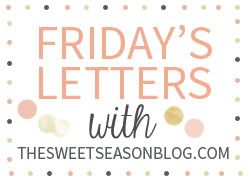 Dear February, Goodbye. You made me feel you are indeed a love month. I had a few struggles here and there but I felt the love of my family and friends and suddenly everything is a breeze.

Dear March

, Welcome! As always I have a positive expectations every start of the month and you are no exception. I hope you will be kind and good to me. No disappointments please. Only positive distractions. Dear Daughter, I am so excited for your senior's night. I know you will be the prettiest. And congratulations on your soon graduation. You've been very busy lately because of your school projects and activities but I am very happy to see you staying positive. You are a grace under pressure. Dear Husband, I miss you. I hate your work schedule. I miss when we go out on weekends. Now, we only make do with what little time we had at home watching movies and eating together. (Sigh). Dear Walking Dead, Again, why are you so good! I am addicted. I miss Shane, though. Glad there's still Darryl and Glenn. Dear Boss, G-R-R-R-R!!!! You are so unfair!

Dear Samsung Galaxy2 Tab 10.1

, See you soon.