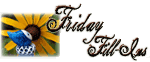 Why is it that every time I tried to do things right, strange things will come up and ruins everything.
Will I be ever be rich, that's what I want to know.
Hold on to your dreams everyone, there's always hope.
If things will work out between me and my husband I think I'll be having a baby soon.
Do you feel like life is giving you a second chance, because that's exactly how I feel. And I'm very thankful for that.
I live, I laugh, I love.
And as for the weekend, tonight I'm looking forward to watching Breaking Dawn 2 with Apple and Luisa, tomorrow my plans include going back to work and Sunday, I will go to church.