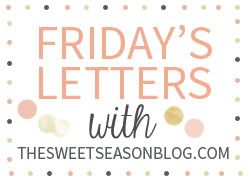 Dear Samsung Galaxy Tab 2 10.1, Finally we met! You are one gorgeous gadget. I know having you will mean additional expenses but I know you're worth it. I'll just look at my daughter's sparkling eyes. She love her new gift so much she won't stop thanking me.

Dear Daughter

, You are welcome. We both know you needed the tablet anyways. And you know you deserve it. I promised you a gift after you passed your PUPCET so there you go.

Dear Husband

, Thank you for the sweetest date last Mother's Day. And thank you for everyday sweetness. Just take it easy on the liquor, will you? Napapadalas eh. You always find an excuse to drink. I don't like you when you drink.

Dear Sister

, Kaya mo yan! I know times are the toughest these days but you can make it. The whole family can survive this crisis. And of all people, I know you are the strongest. Just remember that Ate will always be here. Dear Summer, I don't have enough of you yet. I want you to last longer. I know that the heat is overrated but I prefer that than wet, cold things (sound like Bella of Twilight). I want to do more things outdoor. I want to run more. I want to climb another mountain. I want to go places. I tend to hibernate when it rains. Please, please last longer.

Dear Money

, Why are you being difficult? You never tend to stay. I just had you and then you disappear instantly. I need to find an extra income. Not for me but for my family. They need me and I am not helping. Sigh....