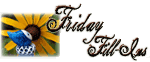 I love the feeling of jogging in the morning. But I don't get to do that nowadays.
Seeing a blueberry muffin and a coffee as breakfast always brightens my day.
My marital dilemma is what I will remember the most from 2012.
My favorite family recipe is my mom's kare-kare.
When I want to spoil myself I have to go to the mall, eat a hearty meal, watch a movie and do some shopping.
Be Careful With My Heart is my favorite TV show.
And as for the weekend, tonight I'm looking forward to watching Les Miserables with Paul, tomorrow my plans include shopping clothes for Leslie's graduation pictorial and Sunday, I want to finish all my house chores so that I can start preparing for my CDO trip.