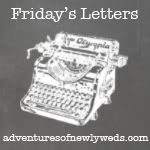 Dear December
, You're here already!
Dear Last Night's Kare-Kare
, Why are you so good? I'm craving for more and it's not good for my diet and budget!
Dear Zumba
, I miss you
na
. Hope I can fit you in my busy schedule (which consists mostly of sleeping and eating). Okay, I don't just miss you...I need you!
Dear Boss
, I know that our company is going through tough times. It happens with other companies once in a while. The important thing is the whole Conluck family is helping together to save the company. You need us, and we need you. I just hope you'll find the courage to stand up and be our leader. We can go through this with flying colors. AJA!
Dear Husband
, I hope you get to read my
wish list post
. There's a lot of things meant for you to fulfill.
Dear Daughter
, Thanks for the
pasalubong
from Baguio. I missed you this past weekend. Don't worry we'll go back there together with the whole family.
Dear Christmas
, I still can't feel you.