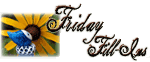 I am not feeling well today. My migraine is in full alert. But when you love something, there's not a single thing that can take you away from doing what you love. And that's blogging! Here goes...
Oh, my past is back from the dead! And I don't like it.
I hope I can find some money sooner, rather than later! There are things that need to be settled before my Christmas vacation.
Buy one, get 99% discount. Hope I can find this kind of a deal.
Think positively! This too shall pass.
Soon, I'm going out of the country. That is one of my New Year's resolution. I want to travel with Leslie.
Do wishes really come true when you wish upon a shooting stars?
And as for the weekend, tonight I'm looking forward to the finals of the Amazing Race Philippines, tomorrow my plans include some zumba dancing and Sunday, I want to have a movie marathon weekend with my family on our new LED tv!