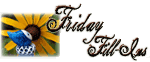 I said very bad things to a friend yesterday, and I am very sorry.
Pizza and ice cream is what I'm craving right now.
I was thinking about working abroad, preferably in Dubai or Singapore.
Please leave now, will you?
We should have a dinner date, don't you think Dinah and Rons?
I can't be sexy slim whether I want to or not!
And as for the weekend, tonight I'm looking forward to do some light shopping, tomorrow my plans include zumba dancing at home and Sunday, I want to be early on my spa date with Gie.
If you want to participate this week, join
here
.