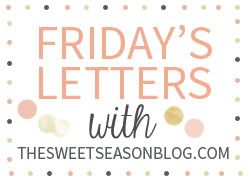 Dear God, Thank You for everything. I know I've been taking for granted Your good graces. Touch my heart Lord so I may be worthy of Your love. Dear Husband, Thank you for taking care of me when I was sick. I know I can be very stubborn. Thank you for your patience.

Dear Stomach

, Stop acting up. You are not funny. All those agonies during Holy week. It's like a Lenten penitence.

Dear Daughter

, You are my source of delight these days. Being helpful at home, always cheerful and taking care of yourself whenever you're home alone. It's like I am meeting you the first time. Keep it up. Dear Office mate, I don't want to get ugly, so I won't be mad. Peace!

Dear Exercise

, I vow to get serious. Please be good to me.

Dear Money

, Still playing hide n' seek, eh? Grrrr!