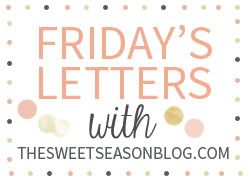 Dear Sleep
, I miss you. Hoping to make you an acquaintance soon.
Dear Crosssfit Training
, Love to do your work out again. I don't mind the sore muscles, you are fun!
Dear Husband
,
Anu na
?
Dear PUP-SIS
, Haaiiissssstttt!!!! You keep on testing my patience. Please do better the next time, ok?
Dear Leslie
, Congrats for being a Dean's Lister! Keep up the good work.
Mana ka talaga sa akin
!
Dear Super Typhoon Yolanda
, Go easy on our country, I beg you. I know we Filipinos are a bunch of tough guys but from time to time we do need a break. Nevertheless, I know every Filipino will pull through this.
Dear Janet Napoles
,
Hindi ko na din alam ang sasabihin ko sa'yo! Bahala na si Bro sa'yo
!
Dear Boss
, Let us go home already. A storm surge is approaching!
Dear Money
, Playing Waldo again?
Dear Condescending Officemates
, F*** You! Still, I pity all of you. Envy is one of the 7 deadly sins. So, goodluck to your souls!
Dear Me
, You are a strong woman. No sore muscles or colds, cough and flu could tie you down on bed. Get up, there is so much you have to do. You are happy. Therefore, don't mind all the ugly creatures lurking around you. You are better than them. Definitely prettier and smarter than them.
Inggit lang sila
! Continue doing whatever makes you happy...you deserve it!